Online Events and courses
Learn Online
Free Online Puppy Q&A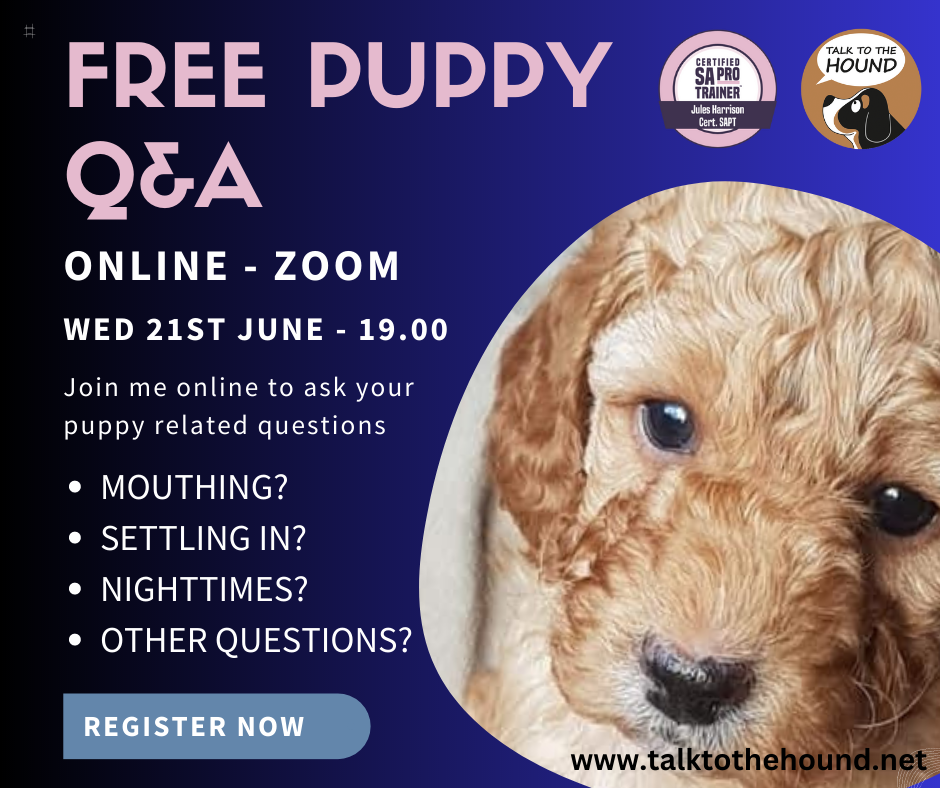 Wednesday 21st June – 19.00
via Zoom

Are you thinking of getting a puppy and have some questions?

Not sure about how to deal with the first night?

Would you like some support on:
Puppy Mouthing?
Toileting?
Body language?
Sleep routines?
Confidence building?
Helping to build independence?

Do you have any other questions?

If you would like to attend, just complete the form via the link below and you will be emailed the joining link a few days prior to the session.

If you have a puppy but do not currently have any questions, or are thinking about getting a puppy then feel free to come along and listen.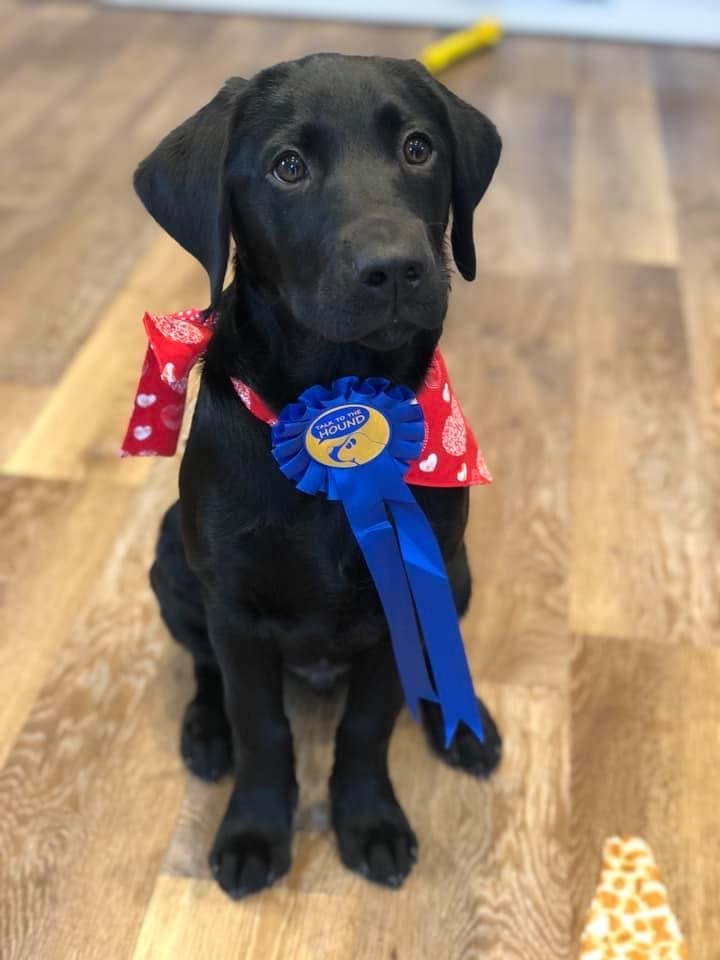 Tell me more…
Good Dog – Level 1 – Foundation Course
Welcome to GOOD DOG – LEVEL 1 where your dog can learn all the skills necessary to thrive with their human families. Whilst dogs have been bred to live with us for many, many years we can't discount the fact they were once wild scavengers and us still still enjoy hobbies like bin raiding, people drag racing and legging it after squirrels!
Dogs don't come knowing the key skills needed to be a Good Boy or Girl and just like young children, they need teachers to show them the way.
In GOOD DOG – LEVEL 1 we start to teach your dog how to be the goodest boy or girl your family could wish for including:
Sitting and staying when asked
Settling and chilling when asked
Coming back even when there are squirrels
Walking with the person on the end of the lead and not pulling them like the huskies they saw on the Christmas advert on the Telly Box
Being the best and fastest dog at fetch in the dog park
Leaving stuff when their person says even when its the tastiest snack in the hands of a human puppy
Listening to your every word
Doing simple tricks to prove to your neighbours and friends they really are the goodest boy or girl in town
Of course this will require a little effort from you too. Like any parent, showing your dog the way is the key to your dog graduating from the Good Dog level 1 class. In this class we have squished lessons into short 5 minute daily sessions Monday – Friday. Commit to just 5 minutes a day and marvel at the results.
All this for only £84
To sign up to this fantastic course, click on the link below and you will be taken to the booking page.
https://schoolfordogs.teachable.com/p/talktothehound-level-1
Pawsitive Pups
Your 6-week Online
Puppy Training Course
Welcome to Pawsitive Pups, the 6-week Online Puppy Training Course. Here at Talk to The Hound we feel getting it right from the start is important. Teaching your puppy those basic manners, consistently and in a fun way, can not only help to build your bond, but set your pup up to succeed. Ensuring appropriate socialisation and suitable guidance will be the key to raising a confident and well-rounded adult dog.
This 6-week Online puppy training course looks at training techniques, along with providing help and assistance with early puppy issues such as socialisation, toileting and biting.
The course is ideal for pups up to approx. 6 months and it can be started immediately too! There is no need to wait for the second vaccination, as you can begin in the comfort of your home.
You will work through 5 exercises per week, over a 6-week period and with Lifetime access to the course, you can refer back to it whenever you choose.
What will you and your pup cover?
Impulse control exercises – No missing sandwiches!
Reliable Recall – Enjoyable off lead walks
An Introduction to loose lead walking – A must for those daily walks
Help with raising your puppy, including socialisation, biting and toileting
Sitting and staying at the door – Avoid running off down the street!
Calmness – 5 minutes peace!
Learning it is good to share – giving up those socks and shoes on cue!
And much more ……
Also, on joining you will have access to a private Facebook page where you will receive continued support, attend Q&As and feedback on any videos you upload. You can also make new likeminded friends along the way.
Ooh, and don't forget your certificate on completion
Raising a pup will take some commitment from you too. So, if you can put aside from 5-10 minutes each day to be your puppy's teacher, you will start to see your pup flourish. Exercises are easy to follow, so you can get all the family involved in the training of your new addition.
All this for only £84
To sign up to this fantastic course, click on the link below and you will be taken to the booking page.
https://schoolfordogs.teachable.com/p/talktothehound-pawsitive-pups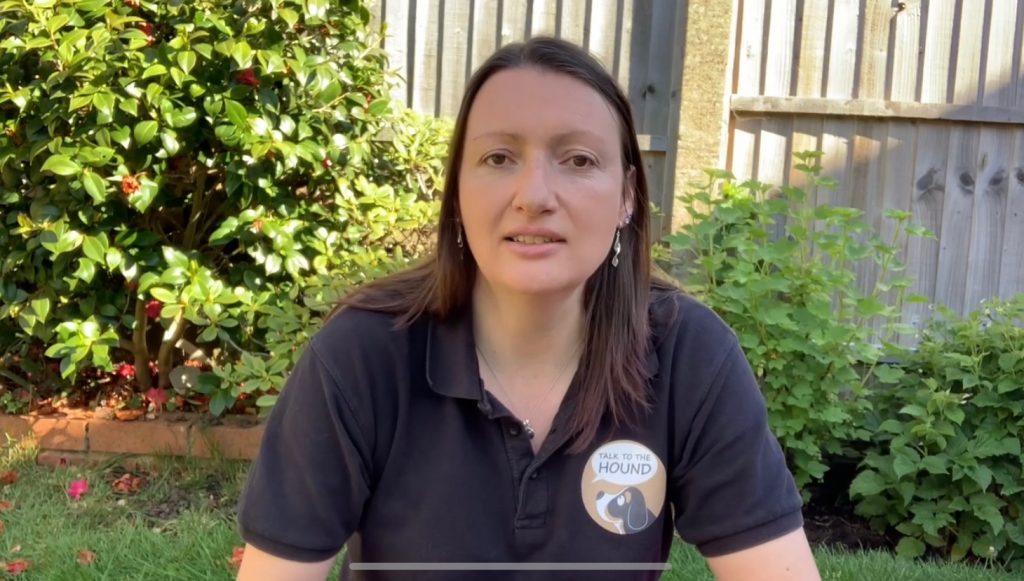 Reviews of the course:
" We signed up to do the online 6 week programme due to lockdown, you can complete this at your own pace. The training videos are so informative, we have learnt so much already! We have only been doing the course for 3 weeks but Jules goes above and beyond to help in anyway she can with any problems you maybe facing, even ones that aren't included in the course and is always willing to offer advice and put your mind at ease!

We will continue to progress with Jules at TTTH for aslong as we need too as i believe its such good value for money. You can really tell that Jules cares so much for what she does and will only do what is best for you and your dog!

Could not recommend them enough!! "
V Hibdige & Cedric
"I did the online course for my puppy whilst waiting for the outdoor course to start as postponed due to covid. The online course was so helpful. It was really easy to follow and felt very personal. The outdoor class then reinforced the techniques learnt and so my dog really benefitted from both. The online course meant I can keep going back to the techniques and advice at any point and I also use the handouts from the outdoor class on an ongoing basis. Jules is fantastic, she will answer any question and tailor it to specifically meet your dogs needs. I would highly recommend both the online course during lockdown (or as helpful extra) and the outdoor classes when they are on. Thanks Jules 🐕‍🦺🙌🏼🥰"
L Andrewatha and Bruno
"We attended online lessons in the first lockdown with our Sprockerpoo Toby. We started off in a hall but had to finish online. They were still very good and almost felt more personal."
T Jenvey & Toby